As Facebook has officially gone off the deep end, what with the twitting and insanely tedious applications (including top five lists), I will contribute another top five list of my own in this forum, and continue to ignore the junkyard of minutiae that Facebook has become.
Having been inspired by a funk-tastic
Karl Denson's Tiny Universe
show that brought the dance party heat last weekend, I humbly present to you my
Top Five Party Startin' Funk Albums
. These are the albums you throw on at a party and play beginning to end once your crowd is socially lubricated enough with drink that dancing is a possibility. The infectious grooves present on these albums will get people moving, and get the party really started. They have been tested in the field over the years, and are the ones I come back to time and time again. Now let us begin the Funk Lesson Countdown:
Honorab
le Mention:
Any
Fela Kuti
album. Nothin' like some good Afrobeat to lock everyone into the pocket. Most Fela Kuti songs are at least 15-20 minutes long, and are relentless with the hypnotic African funk. I recommend the
Confus
ion/Gentlem
an
album as a start. Also, anything by
Antibalas
will also do.
5.
Maceo Parker - Life on Planet Groove
This live album from 1992 brings the heat. With Fred Wesley on trombone, this is the James Brown horn section funkin' it up and bringin' the house down. The first two tracks, "Shake Everything You Got" and "Pass the Peas," clock in at 28 minutes combined, and provide enough syncopated sax to make your granny shake it.
4. The Greyboy Allstars - Live
Greyboy is one of the great modern funk bands, playing patented West-Coast Boogaloo old-school style. This live album from 1998 is tight as hell, with Karl Denson on sax and jazz flute, and Robert Walter on the crunchy Hammond B3. The band chugs along tight as a drum, and it is very hard not to shake your shit in the process.
3. Lettuce -
Rage
A modern classic. Funk supergroup Lettuce just released this album last year, and i have since given it more party play than Rod Stewart in the 70s. With members of Soulive and virtuoso Adam Deitch on drums, this band punches the funk in like it's their business. In my opinion, Lettuce is the tightest and best funk band playing today.
2.
The Jacksons - Triumph
I know what you're thinking. Where's
Thriller
? Well, though it is the #1 all-time party-starting album in the
history of mankind, Thriller
isn't a funk album. But this criminally underrated album is. It is a wonder no one has heard of it. It was released in 1980, directly in between
Off the Wall
and
Thriller
and I see it as equally awesome as
Off the Wall
. MJ and his brothers have left Motown at this point, which means they changed their name to The Jacksons, and have complete creative control over their music. The result is a fucking awesome album of bass-popping pick-me-up disco-funk tunes that you probably have never heard. Plenty of patented MJ-snapping and clean L.A. production throughout, making for an awesome MJ dance party to songs that you haven't already heard a million times.
1. James Brow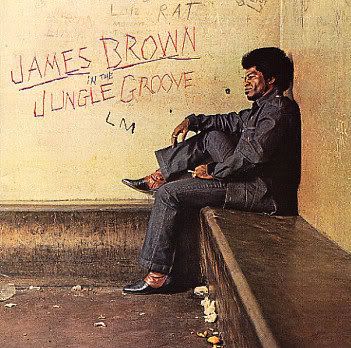 n - In The Jungle Groove
This is pretty much the holy grail of funk music. It is a compilation of studio jams from 1969 to 1971, which is the period in which James Brown essentially invented funk as we know it. An 18 year old Bootsy Collins plays bass on these tracks, which are the most in-the-pocket grooves to ever punch you in the gut. "Talkin' Loud and Sayin' Nothin'" is my favorite track, with a bouncing lead bass line and a relentless groove that pounds you into the ground, its so deep. "Funky Drummer" is the most sampled track in the history of hip-hop music, if that says anything about the grooves on this album. If this album doesn't get the dance on at your party, then your party sucks. Period.
Thank you, goodnight! And always remember to Pass the Peas.